The VERTICAL TRAVELING COLUMN (VTC) 250D Vertical Machining Center features a powerful 50 Taper High Torque spindle, full traveling column design and fixed table for machining of extremely long and heavy work pieces. Or with a table center partition the machine work envelop
can be transformed into two separate work areas that allow the machine to be in cycle in one work area, while a part is being set up in the other work area. The machine also delivers fast rapid traverse rates to reduce non-cut times.
MACHINE CHARACTERISTICS:
Long fixed table design with split table capability
6,000 RPM, 50—taper High Torque spindle
1,181 ipm rapid traverse rate
24-tool storage capacity
Maximum table load of 3,000 lbs.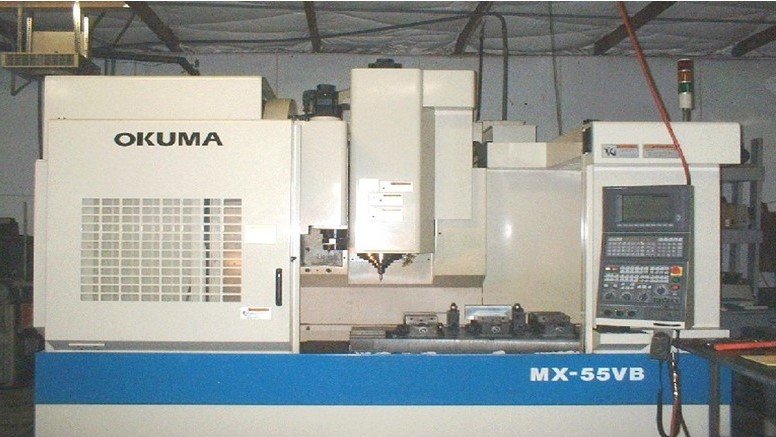 TRAVELS:
X AXIS 41.34″
YAXIS 22.05″
Z AXIS 17.72″
SPINDLE END TO TABLE SURFACE 6.3″ T0 24.02″
TABLE:
WORKING SURFACE 22.05″ X 51.18″
TABLE SIZE 22.05″ X 51.18″
TABLE SURFACE TO FLOOR 31.50″
TABLE LOAD CAPACITY 1540 LBS
SPINDLE:
SPEED RANGE 50 TO 7,000 RPM
SPINDLE TAPER NT.40
DIAMETER AT FRONT BEARING 2.76″
MOTORS:
MAIN SPINDLE MOTOR 10HP FOR 10 MIN/7.5 HP CONT.
FEED MOTOR XY Z AXIS 2.75 HP
DIMENSIONS:
118.11″ WIDE X 106.3″ DEEP X 106.3″ TALL MACHINE TOOLS
MACHINE WEIGHT 15,180 LBS
ATC:
TOOL SHANK MAS BT40
PULL STUD MAS 2
TOOL MAGAZINE CAPACITY 20 TOOLS
MAX. TOOL DIAMETER WITH ADJACENT TOOLS 3.54″
MAX. TOOL DIAMETER WITHOUT ADJACENT TOOLS 4.92″
MAX. TOOL LENGTH 15.75″
MAX. TOOL WEIGHT 17.6 LBS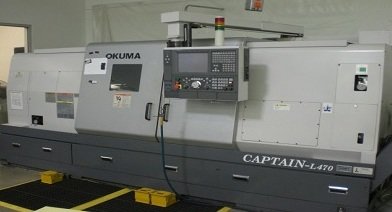 CONTROL
CNC (OSP-P100L)
CHUCK SIZE
15 INCH
BAR CAPACITY
3.62 INCH
AXIS
3
TURNING DIAMETER:
16.54 INCHES
SWING
24.4 INCHES
TAIL STOCK
YES
DIMENSIONS
157″ X 75″ X 83″
WEIGHT
16,720 LBS
MANUFACTURER
OKUMA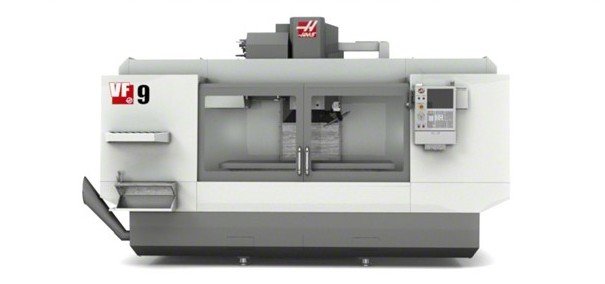 5 Axis Vertical Machining Center, 64″ x 32″ x 30″ (1626 x 813 x 762 MM), with removable 12.2″ (310 MM) 2-Axis trunnion rotary table, 40 taper,40 HP (22.4 kW) vector drive, 8100 RPM, inline direct-drive, 24+1 side mount tool changer, 600 IPM (15.2 M/MIN) rapids, automatic chip auger, programmable coolant nozzle, power failure detection module, 1GB program memory. coordinate rotation and scaling, color remote jog handle. macros, high speed machining, 15″ LCD color monitor, USB port, memory lock key switch, rigid tapping, and 95-GALLON (360 LITER), flood coolant system.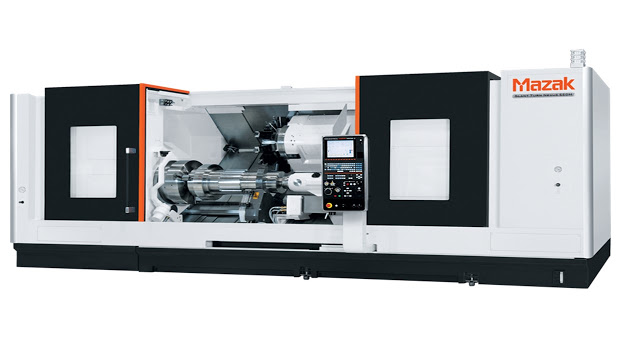 The SLANT TURN NEXUS 550 is a powerful, high torque, heavy-duty, big-bore turning centerfor large part turning applications, such as oil field pipe /casings, pipeline control valves, turbine, components and aircraft engine parts. The machine offers maximum machining lengths up to 160″, and depending on chuck size, maximum machining diameters to 36″, for long, large-diameter parts.
MACHINE CHARACTERISTICS:
High torque, high horsepower geared headstocks for heavy-duty cutting
Various big bore spindles available, with front and rear chuck options
12-position non-lift drum turrets for rapid tool indexing
NC servo-driven tailstocks
Mazak MX Hybrid Roller Guide System
MATRIX NEXUS 2 CNC